Product Guide
Stone-Like Waterfall Restoration System
Concrete Mixes
Mason & Mortar Mixes
Cement
Miscellaneous
Blacktop / Pavement Products
Bagged Sands
Bagged Rock
Bonding Agents
Grouting & Anchoring
Damp / Water Proofing Products
Stucco & Plaster Product
Wet Cast Products
Dobies
Brick Products
Concrete Tables, Benches & Umbrella Bases
Stepping Stones & Pavers
Block
4", 6", 8", 10", 12" and 16"
Rebar & Ladure Wire
Rockwood Retaining Wall
Machine-made Garden Products
Tile Setting Products
Shotcrete
Toll Blending
60# Supermix Post Hole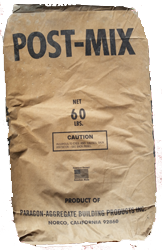 POST HOLE MIX: is a mixture of sand and rock aggregates blended with Portland Cement Type II I V. The blend ratio of aggregates used is specifically designed for the setting of posts.

Special order strength designs available just ask your Paragon sales personal.

FEATURES AND BENEFITS:

It's convenient and economical.

Quality controlled

No guesswork. No waste. No loss of time.

Requires only the addition of water.