Pool Plaster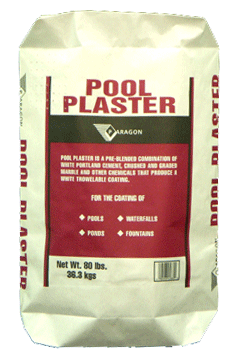 May contain any or all of the following materials; White Portland Cement Type I (meeting ASTM C 150 Specification),crushed and graded marble sand, a unique ceramic coated colored particle, and other chemicals. These items are factory blended to produce a dense and durable trowel coat for concrete swimming pools, ponds, shower enclosure interior plaster coat, etc. and bagged for easy convenient job site applications.
FEATURES AND BENEFITS:
Smoother Finish
Brighter finish
More Durable
More reflective
Resistant to etching
Available with ceramic Coated Color Particles
For new plaster or Re-plaster work
Modified for more resistance to the Chemical Deterioration and Mechanical Wear that Pool Plasters are exposed to.
USES
As an exterior plaster finish coat for new and/or refinishing concrete pools, ponds, etc., where an abrasion-resistant durable coating is required. It can be used as a pointing mortar or patching material for repairs of small cracks in pool floor and walls.
| | | | |
| --- | --- | --- | --- |
| Units Per Pallet | Size | Product # | Color |
| 42 | 80 lb. bag | 45880 | White |
| 42 | 80 lb. bag | 45885 | Grey |